Graduation season is upon us and the Milagro Marketing team has been busy working closely with the Latino/a Education Association of San José City College to produce a variety of different marketing pieces for their annual La Raza Commencement Ceremony. La Raza Commencement is a familial occasion which allows for a more intimate, bilingual/bicultural celebration of the 67 graduates. The celebration gives graduates the chance to give their gratitude to their familias and all those who played a role in their success. This year's graduates are pursuing all kinds of career paths, ranging from alcohol & drug studies to mathematics to kinesiology and everything in between!
So, what do you do when the illustration provided by the client is a copy of a copy of a copy that's nowhere near clean enough to use? La Raza Commencement was eager to let us bring out our creative genius and refresh their brand, updating it with cleaner, stronger lines and a splash of color. We adjusted the faces; rather than looking up at the stars, we wanted them looking straight forward so that they reflect being in the present, a definite force to be acknowledged for all they have brought to the SJCC campus.
The new illustration became the central theme for this year's Commencement program, establishing a strong brand presence throughout the event. We are super excited about how the new logo turned out, and it is all thanks to our illustrator, Will Orozco!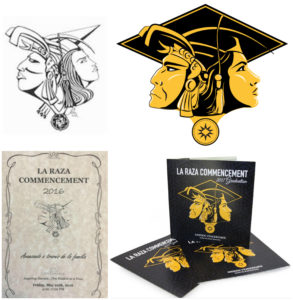 In addition to the logo refresh, we also helped create an environment that highlighted this newly revised brand with two different backdrops. One was displayed front and center, right on the stage as a background to all of the excited graduates receiving their diplomas. The second featured the event sponsors and was used behind the "purple carpet" providing the perfect background for graduates to take photos with their friends, family, and loved ones and of course, to share with all of their friends on social media.
Congratulations to all of the grads, we wish you nothing but the best of luck in all of your future endeavors!